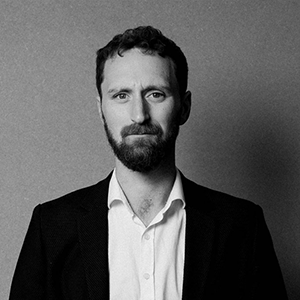 As a child, Timothée Musset spent a lot of time in the open air, in the heart of nature. After his baccalaureate, he decided to go on a Tour de France with the Compagnons du Devoir. This apprenticeship in carpentry lasted eight years, in contact with the ancestral wood of historical monuments. Following this journey full of riches, Timothée worked in a design office for several years before returning to caress the material. Trained as a carpenter, he became a furniture designer by passion. He then decided to pass on his knowledge, and it was at this point that he created the Atelier Musset. Always fascinated by timber, Timothée chose to work mainly with this often forgotten material. He observes, touches and courts these old woods before sublimating them, while showing their defects as integral parts of their beauty. The recovery of these woods steeped in history is essential for him, woods that have survived the centuries and still have things to tell. Timothée gives a new, more poetic dimension to the raw, heavy and massive appearance of this material.


Through the simplicity of the forms, he creates a collection of contemporary furniture meticulously handcrafted. Solid wood creations reveal a certain form of lace, through the rings and sapwood worked by nature.
Alone or in collaboration, Timothée Musset's objective is to bring a new look to what seems obsolete, to remember that time does not destroy, it shapes the material down to the smallest details, all to be contemplated.
Thus, in these forms, both minimal and raw, the creator, through the richness of the duality old / contemporary, proposes usual pieces with a sculptural tendency, unique and alive.


BABEL
The myth of Babel is present in almost all civilizations. The Tower of Babel may have been inspired by the Etemenanki in Babylon, referred to as "the temple of the foundation of Heaven and Earth". In Genesis, shortly after the Flood, when they all spoke the same language, the men reached a plain in the land of Shinar and settled there.
The city is then called Babel. Tales of buildings reaching to heaven have long inspired writers and artists.
There they set about building a city and a tower whose top touches the sky, to make a name for themselves. Then God blurs their language so that they no longer understand
each other, and scatters them all over the face of the earth. Construction ceases.
Here, Timothée Musset seeks to link body and spirit in this spiral, almost rooted to the ground, whose candles symbolise the thought, or even the spiritual quest of Man. The symbolism is all the more powerful as each of the 30 candleholders was made from sections of the 18th century framework of the Archives Nationales (the Hôtel de Breteuil in Paris), which has been a sort of historical memory of the French state since its creation. By saving them from the flames to which they were destined, Timothée gives them a new life. He finds a metaphysical symbolism, almost a mise en abîme, in this totally unique creation